George Schatz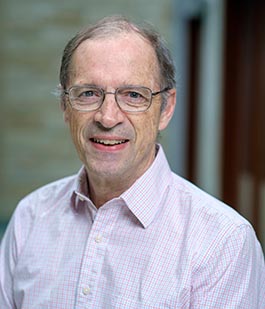 Northwestern University
g-schatz@northwestern.edu
The Schatz Group
CBES Research Areas:
Multi-Scale Synthesis of Artificial Muscles, Hierarchical Structure-Mediated Photocatalysis, Autonomous Soft Microrobots, Mechanical Enhancement of Photocatalysis
Morrison Professor of Chemistry
Professor of Applied Physics and Chemical & Biological Engineering
PhD (1976), California Institute of Technology
Biological photosynthesis occurs in highly structured environments where the position and order of the components play a key role in the overall efficiency of multiple energy and electron transfer steps. One of the Schatz group's projects focuses on fundamental questions regarding the design of photocatalytic materials with bio-inspired spatial organization. Another project concerns modeling nanoparticle assemblies with switchable DNA linkers, for which the Schatz group identifies structures with optimal light–matter interactions whose building blocks can be identified by inverse design. The Schatz group is also exploring photoswitchable soft materials composed on peptide amphiphiles that are coupled to polymers with switchable components.
Key Publications
Free-Energy Profiles for A-/B-DNA Conformational Transitions in Isolated and Aggregated States from All-Atom Molecular Dynamics Simulation
Lai, C-T., Schatz, G.C. 
Phys. Chem. B., 122, 7990-7996, 2018. 
Peptide Amphiphile Self-Assembly
Iscen, A., Schatz, G.C. 
EPL, 119, 2017. 
CBES Publications
See all CBES publications authored by George Schatz