Kyle Bishop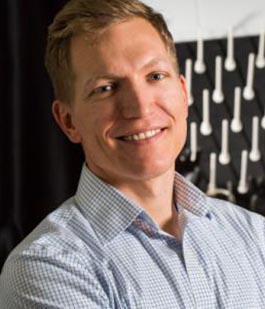 Associate Professor, Chemical Engineering
PhD (2009), Northwestern University
Living cells navigate complex environments to perform diverse functions by integrating the capabilities of sensing, actuating, computing, and communicating. Building on CBES advances in active colloids and colloidal assembly, the Bishop group is developing synthetic shape-shifting microparticles referred to as "microrobots" which move autonomously and adapt their motions in response to both environmental cues and interparticle signals. In particular, the Bishop group explores the shape-directed dynamics of microrobots using different energy inputs to move across stimulus landscapes. Bishop's laboratory also uses microfluidic approaches to create well-defined stimulus landscapes for microrobots to navigate. 
Key Publications
Shape-directed dynamics of active colloids powered by induced-charge electrophoresis
A.M. Brooks, S. Sabrina, K.J.M. Bishop.
Proc. Natl. Acad. Sci. U.S.A. 115, E1090-E1099 (2018). 
Shape-directed micro-spinners powered by ultrasound
S. Sabrina, M. Tasinkevych, S. Ahmed, A.M. Brooks, M. Olvera de la Cruz, T.E. Mallouk, K.J.M. Bishop.
ACS Nano 12, 2939–2947 (2018). 
Magneto-capillary dynamics of amphiphilic Janus particles at curved liquid interfaces
W. Fei, M.M. Driscoll, P.M. Chaikin, K.J.M. Bishop.
Soft Matter 14, 4661-4665 (2018).
CBES Publications
View all CBES publications authored by Kyle Bishop