Harnessing Self-Assembly to Make Photonic Nanowires
Scientific Achievement
Molecular dynamics simulations have demonstrated how the self-assembly of peptide amphiphile (PA) molecules in the presence of porphyrin chromophores leads to photonic nanowires that mimic photosynthetic antenna complexes.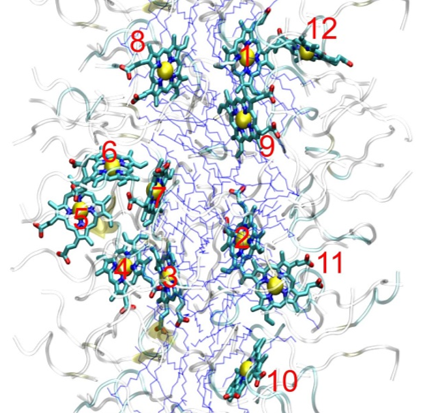 Schematic PA fiber, with the positions of 12 of the Zn(II) porphyrins highlighted. The peptide portion appears as random coils and turns in blue, and the alkane tails form the core of the cylindrical structure.
Significance and Impact
The photonic nanowire structures are of interest in making a variety of devices ranging from solar cells to photonic circuits.
Research Details
Previous research by Samuel Stupp demonstrated that PAs mixed with porphyrins can self-assemble into fibers in which the porphyrins show excitonic coupling. However the supramolecular structure was not determined.
The present simulations revealed the fiber structure and the mechanisms of excitonic coupling.
Work performed at Northwestern University