Shape-Directed Dynamics of Active Colloids
Scientific Achievement
We showed how particle shape can be used to encode complex dynamical behaviors into colloidal particles powered by induced-charge electrophoresis (ICEP).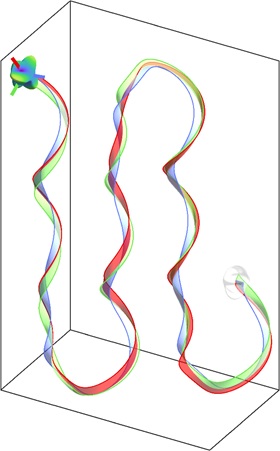 Dynamic trajectory of a C3 particle moving in a uniform electric field via ICEP.
Significance and Impact
Our results are useful in designing the active components of colloidal machines capable of bioinspired functions.
Research Details
We used theory and simulation to systematically explore the variety of ICEP motions of polarizable particles of different symmetries and shapes.
In addition to linear, rotational, and circular motions, we discovered particles capable of oscillatory motions, helical trajectories, and complex periodic orbits.
We described how desired particle trajectories can be rationally engineered into asymmetric microparticles, accessible by top-down fabrication techniques.
Shape-Directed Dynamics of Active Colloids Powered by Induced-Charge Electrophoresis
Brooks, A.M., Sabrina, S., Bishop, K.J.M.
Proc. Natl. Acad. Sci. U.S.A.
115,
2018
, E1090-E1099.
Work performed at Pennsylvania State and Columbia Universities